Artist Spotlight: Prescott McCarthy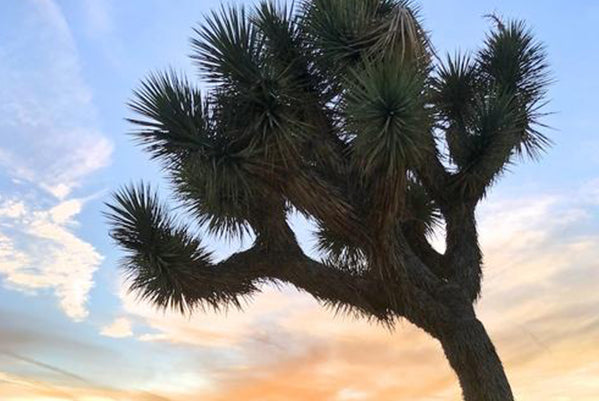 On a recent visit to the Yucca Valley, we made a fantastic discovery, a very talented artist named Prescott McCarthy!
The desert communities out by Joshua Tree Park have really been capturing our imagination as of late. And luckily we have a good friend who was nice enough to move out there so we could visit all the time. (Above is the view from her front yard!) And we've been discovering all sorts of fun places.
And fun stores too. In the community of Flamingo Heights was a great find, Wind Moon Trading Company. Filled with all sorts of locally sourced art, body care (I'm still enjoying some amazing body butter I purchased) and vintage clothing, the thing that really caught my eye was this painting on the wall...
I had to instagram it because it was my favorite thing I'd seen all day and was thrilled to find out that it was done by Prescott McCarthy, the husband of Meika May who owns Wind Moon Trading Co. Of course! Prescott and I hooked up immediately and he agreed to make some pieces just for us!
And he's a pretty interesting guy too. Besides making the paintings I fell in love with, Prescott makes a living creating art installations for big events like Desert Daze. Check out his site to see some of this really impressive work. And if you've got a few minutes, read the ongoing saga of his and Meika's desert Homestead, The HiLo. It makes you realize that no matter where you are, the government will still manage to find a way to screw you. I wish them luck.
To purchase Prescott's work, please go here to see what we have in stock.