Fire Pit Seating Area Design & Placement Ideas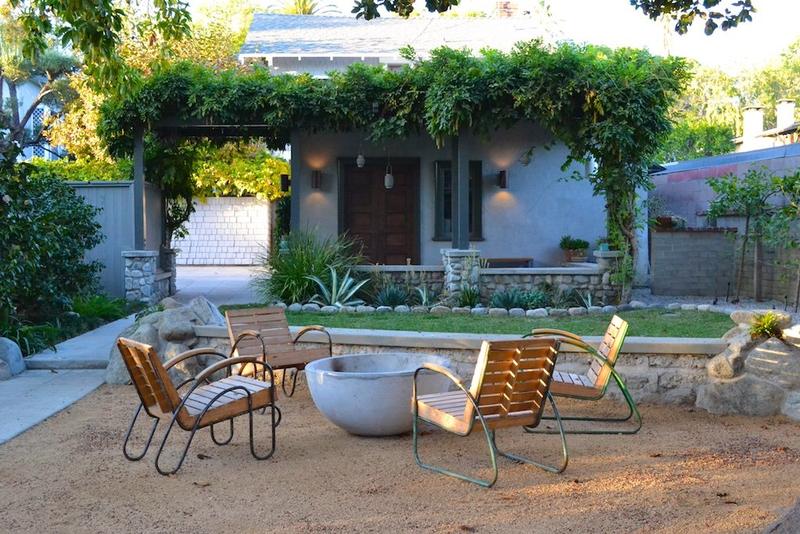 Who doesn't love a starry evening spent socializing with friends and family by the warm glow of a fire? An outdoor fire pit can act as a design focal point and provide a warm spot for loved ones to gather on cool summer nights. If you think it's time to bring this summer must-have to your home, here are some ideas to help you get started.
Where to Place Your Fire Pit
Whether you build your own fire pit or purchase one, placement is essential to making sure you have an enjoyable experience. You don't want to feel crowded, so if you plan on hosting guests often and want a larger fire pit, make sure you choose a large, open area to place it in. You can use an existing area of concrete, grass, or stone to place the fire pit on, or you can design a new hangout spot. Just make sure the ground is level and the fire pit is at least 25 feet away from structures. If you have other activities in your backyard, such as a pool, horseshoe pit or volleyball net, place your fire pit within a good distance so those conversing by the fire can still enjoy the company of anyone splashing in the water or playing a game.
Choosing Seating for Your Outdoor Fire Pit
You will spend a lot of time sitting around the fire with friends and family, so you want to make sure your seating options are comfortable. No flimsy, uncomfortable plastic chairs or cold, hard folding ones. Find outdoor loungers and chairs you and guests can spend hours sitting in. Stick to cozy materials like woven vinyl cord and upholstered cushions. Traditional Adirondack chairs and benches are also great options for fire pit seating, and you can get more creative with furniture like egg chairs, swings and even outdoor daybeds. Keep the shape of your fire pit in mind while selecting furniture. Individual chairs and loungers will work best with a round pit, while outdoor sofas and daybeds are perfect for square or rectangular ones.
Ideas for Seating Arrangements
With your fire pit placed and seating picked out, it's time to arrange everything. If your seating options are lighter, you can set them up and play around with placement. If you have heavier sofas and loungers, it's best to plan everything out beforehand.
The first thing to think about is how much space you want between chairs and the fire pit. There should be enough room for people to walk around, usually at least a few feet. If you have a large fire pit with an edge around it, you can place chairs a bit closer so guests can rest their feet on it. You also want to make it easy for people to converse. You can place seating in a full circle around a smaller pit since everyone can be heard, but if you have a large pit, try to arrange furniture in a loose semi-circle so everyone can still see and hear each other.
Add a few other pieces of furniture like side or bistro tables for guests to set drinks on as you enjoy the fire. This also makes the arrangement functional when the pit is not in use. You can also add a stylish fire pit cover to turn it into a table during the day. To make the space even more enjoyable and attractive, throw in a few pieces of outdoor decor. A couple of planters, a small fountain or decorative vases can make a big difference.
Outdoor Fire Pit Placement Tips
We know you're excited to get to work on setting up your fire pit. Before you can sit back, relax and enjoy the warmth and glow of a fire, there are a few things you need to keep in mind:
Check local fire codes before installing a fire pit
Place your fire pit on even ground
Keep your fire pit away from plants, trees, gazebos and other flammable materials
Always have a hose or source of water within reach
Keep an eye on children and pets while the fire pit is in use
Browse Our Selection of Modern Fire Pits and Accessories
Potted offers a great selection of fire pits, fire pit accessories and outdoor decor to help you breathe new life into your outdoor spaces. Visit Potted in Los Angeles or shop online to browse our selection of fire pits, decor, furniture, planters and more!