How To Make A Succulent Ornament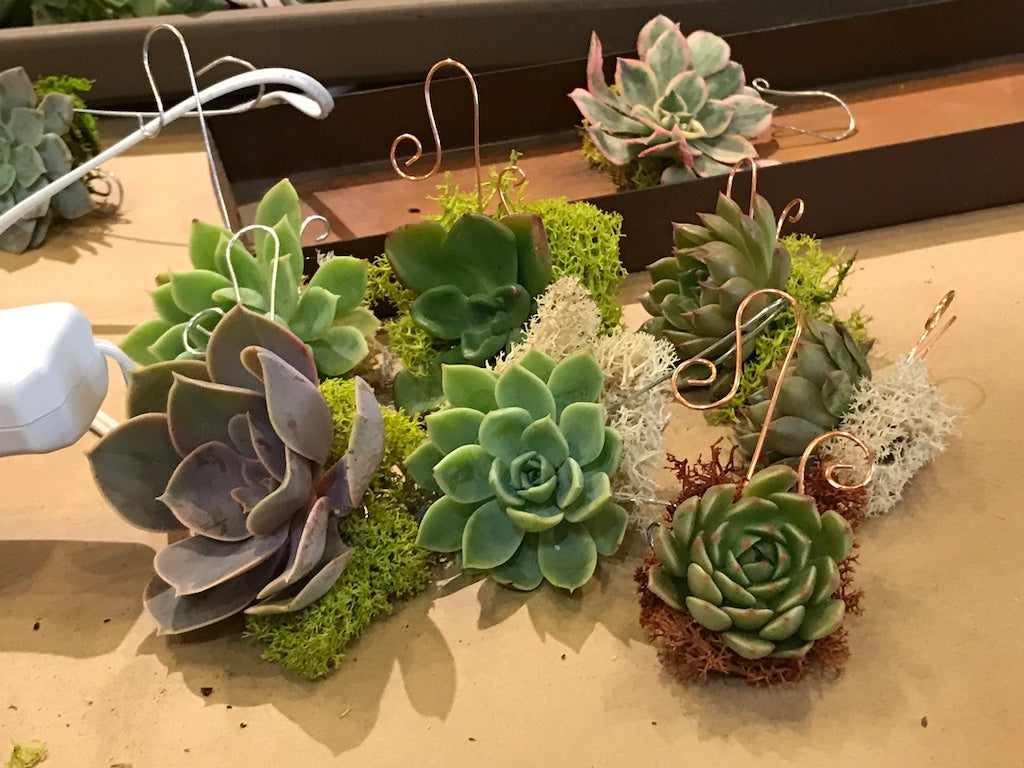 If you missed our last workshop on making succulent ornaments, enjoy this blog post that gives you all the details.
As you know, we love succulents at Potted and couldn't get the idea of a tree dripping with them out of our heads. Turns out it's pretty easy to do. Here's a list of materials and step-by-step instructions so you too can make your own Succulent Ornaments.
What you'll need:
2" Rosette-style succulents with dirt and roots cleaned off (cuttings work even better)
Aluminum or copper wire (or both!) cut into 6-inch lengths
Wire cutter
Hot glue gun
Dowel sticks (fat sharpie pens work too)
Small needle-nose pliers
Moss
Moss can be purchased at craft stores by the bag and it comes in different colors...green, chartreuse, natural. Get a few colors for variety. You'll be using it to cover the back of the succulent and create a setting.
The first thing you'll be doing is creating your hanger. The idea is to make an "S" - the top will hang on the branch and the bottom will give you something to glue your succulent to. To get a nice even "S" top, curve the aluminum wire over your dowel or sharpie pen. If you want to make a simple "S" hook, only use enough wire to hang nicely on a branch.
If you want to get fancy, give yourself some extra wire at the top "S" and use small pliers to twist the ends of the wire (or use a small dowel to create a small curve).
Next take your hot glue gun (which you have pre-heated) and put a dollop of glue on the back of one of the succulents and then attach the bottom of your "S."
Immediately begin pressing in your moss before the glue dries. The moss will hide the back glue and also give you more surface to create a stronger bond for the succulent to stay attached to the hanger.
Keep holding everything tight until the glue dries. Hot glue guns work fast so this will go quickly.
And that's pretty much it. You can make a lot of these guys in a short amount of time.
Some of our workshop participants got pretty fancy with their hangers too.
There's really no limit to what you can do with aluminum and copper wire.
And with a cute gift box and some crinkle paper, they make an excellent hostess gift. You will be the hit of the party.
If you make any of these ornaments, please tag us on Instagram - @pottedstore - so we can share your creations. And have a happy holiday!