How To Make a Succulent Pumpkin Centerpiece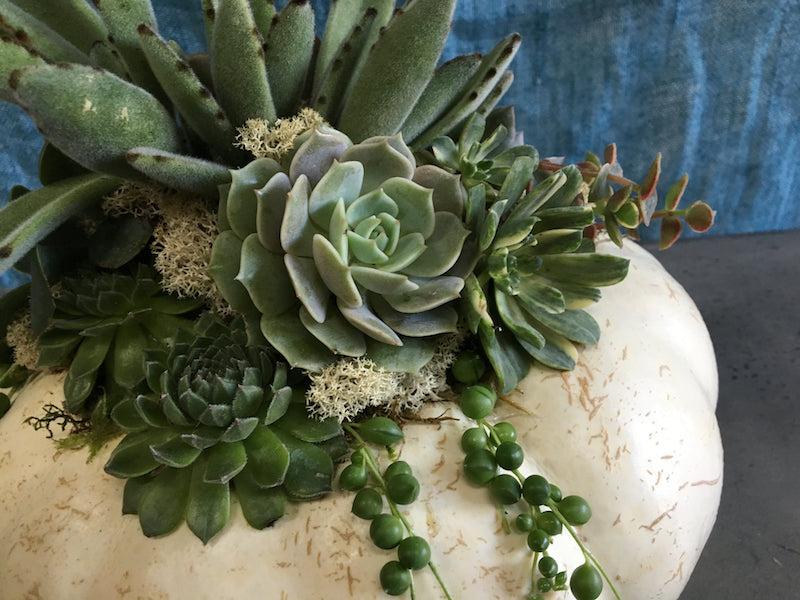 Create a beautiful Pumpkin Centerpiece with succulents. Enjoy it for the holidays then plant it to enjoy all year long! Here's how:
This method for creating a pumpkin centerpiece keeps the pumpkin intact and glues the plants on the top. This way the pumpkin will last much longer before it starts to rot (should last from Halloween to Thanksgiving) and when it's time to plant, you can easily peel the plants off the top in their moss bed and plant them exactly the same way.
Gather your materials. Here is what you'll need:
A Pumpkin (consider using a more unusual color than traditional orange)
Moss (both spagnum and natural in whatever color you prefer)
Tacky Spray
An Assortment of Succulents (consider height and color when selecting)
Scissors and Paint Brush (to clean succulents)
Hot Glue Gun and Glue Sticks
Chopsticks (to help push succulents and moss in hard-to-reach places)
Start by cleaning the dirt and roots off the succulents you want to use. It's very difficult to glue dirty plants. Don't worry, succulents can take this kind of abuse and they will regrow roots from their stems.
Take your Tacky Spray (available at any craft store) and give a generous spray to the top of the pumpkin.
Then take your bed of Spagnum Moss and push it firmly on the top. Hold it there for 20-30 seconds to ensure it has a good grip.
Begin adding your succulents. It's best to start with larger pieces and work your way from the center out. Apply a generous amount of hot glue to the stem.
Push the cutting firmly into the moss bed. You may want to use "props" to hold your initial pieces up until you've created enough of a planting so the pieces stand up on their own.
Keep apply more and more succulents until you are happy with your design. Remember to vary color and height for interest.
Push pieces together as you go and hold for several seconds until the hot glue cools.
When all the base plants are in, it will looks like this. Now it's time to add filler and little pieces of interest.
Use longer trailing succulents like these String of Pearls to cascade down and create interest. The chopsticks are an excellent tool for push these pieces in so the glue attaches to the moss.
Use natural moss in a variety of colors to create more interest. Also try using dried berries, seeds, feathers...anything that strikes your fancy. Here we've added a small pinecone.
Ta-da! A beautiful succulent centerpiece.