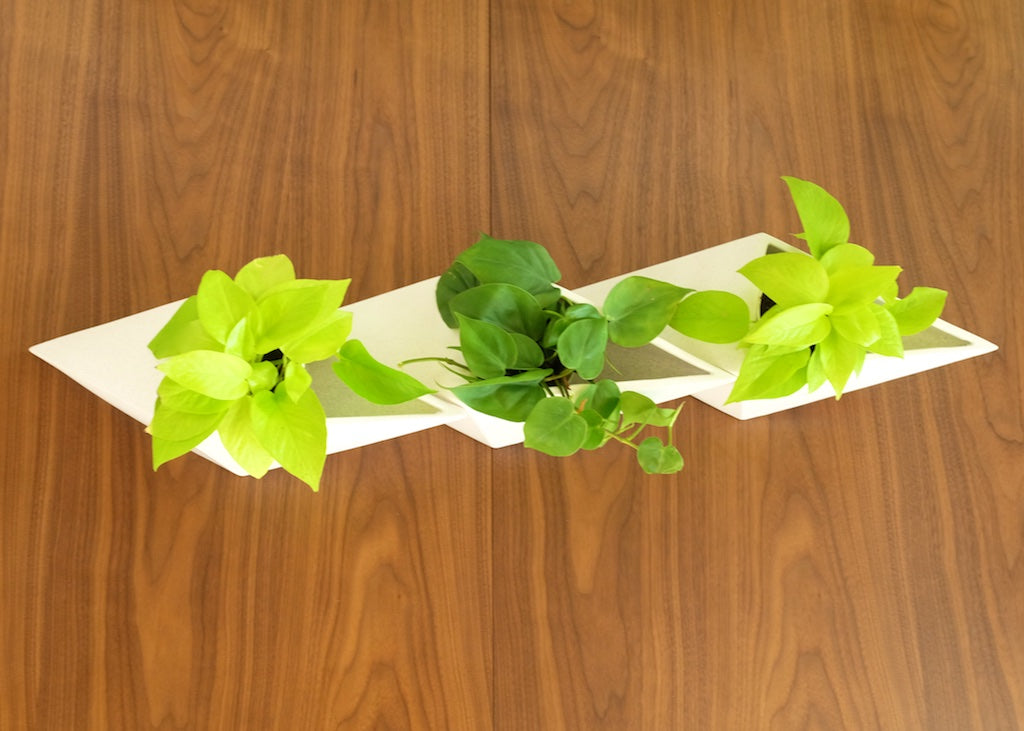 Born from our long-time friendship with garden designer Dustin Gimbel, Potted is proud to present it's newest exclusive design...The Point Pot.
From the time he walked into our store 11 years ago with a laptop full of his amazing gardens, we have always been astounded by Dustin's talent and passion for design. If you don't believe us, check out this post we did on his own garden to see for yourself.
We've had tons of fun making hyper-tufa pots together (mine sucked, his were fabulous) but then he left me in the dust as he started experimenting with geometry and ceramics. The upshot was I got some very cool birthday presents (that top planter above is now in my dining room!) and Dustin became obsessed.
He played with glazes and weird shapes like these Alien-esque sculptures above. And while he really enjoyed making these one-of-a-kind pieces, it was time to design something that would be able to be created consistently. So after creating a lot of geometric designs, he realized he was on to something with The Point Pot.
Then, over a very good Italian dinner at All'acqua in Atwater Village, Mary, Dustin and I discussed the possibilites of collaborating with the prototype he had brought. In fact, as we talked (and, ok, drank) our enthusiasm over the partnership and all the ways this planter could be displayed got so boisterous it carried over to the table nextdoor. But instead of being annoyed, our neighbors became fascinated by the prototype too and soon were also convinced that this was the coolest planter they'd ever seen.
Because not only could it be hung, as shown in the photo above...
It also looked cool paired with other Point Pots. This repetition of three above looks really striking in this mid-century dining room.
And here are two having a little conversation.
After a lot of color experimenting, we all settled on three colors - Pacific Blue, Vanilla Bean and Sea Spray Green.
The Vanilla Bean is flecked with specks of black that give it texture and dimension.
And the Sea Spray Green and Pacific Blue are slightly ever changing...just like the ocean.
And plants look really cool in them!
If you want to get one for yourself, click here.