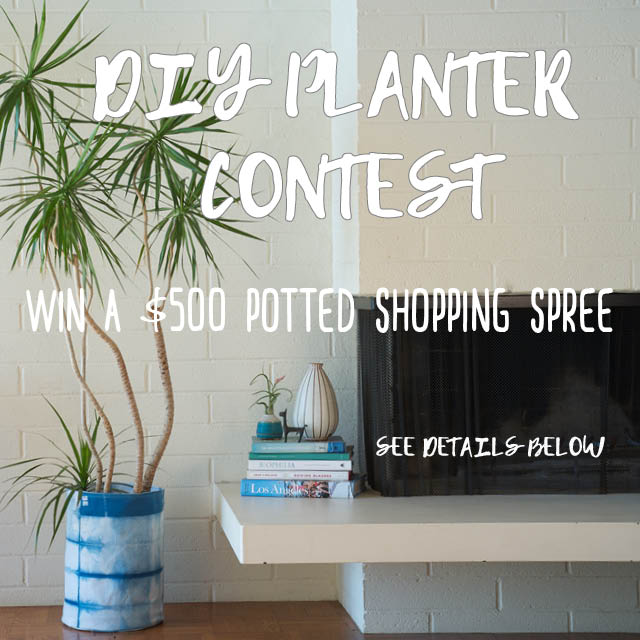 To Celebrate our new book: "Potted: Make Your Own Stylish Garden Containers" we're having a DIY Planter Contest! All the details are in this blog post.
We know our customers and followers are super clever so we wanted to see what you guys could come up with for your own DIY Planter. Like the Shibori Fabric Bucket project we did for the book above, we want you to show up what you can do. Planter project can be interior, exterior, whatever you want. Just remember that it's about the planter and how creative you are...but don't forget to make it look fabulous (ie, plant it beautifully and take an amazing photo).
WINNER GETS A $500 Gift Certificate to Potted plus bragging rights! (And the top 5 will receive a copy of the book!)
This will not be a popularity contest. Each photo will be judged via Instagram on its merits for creativity and execution by these absolutely fabulous judges:
Debra Lee Baldwin   @debralbaldwin
and Justina Blakeney   @justinablakeney
And if you don't currently follow these amazing influencers, you should!
Need inspiration? Check out our book for ideas!
To Enter:
- Post A Photo Of Your Best DIY Planter Using #PottedStyleDIY and follow @pottedstore on Instagram.
- Follow All the Judges.
- No purchase is required to enter.
- Open to anyone, but prize(s) can only be shipped within the Continental United States. 
- Project and photo must be your own creation.
- Does not have to be an original idea.
- Enter as many projects as you want.
Other Stuff:
- This contest is in no way sponsored, endorsed or administered by, or associated with, Instagram.
 - By entering you agree to:
            1. Release Instagram, Potted and any of the judges from complete liability.  
            2. Allow your entry photo to be used for promotional purposes as deemed necessary by Potted without compensation.
- Contest ends June 21, 2017.
- Winner announced June 26, 2017.