Show Your Style With Unique Planters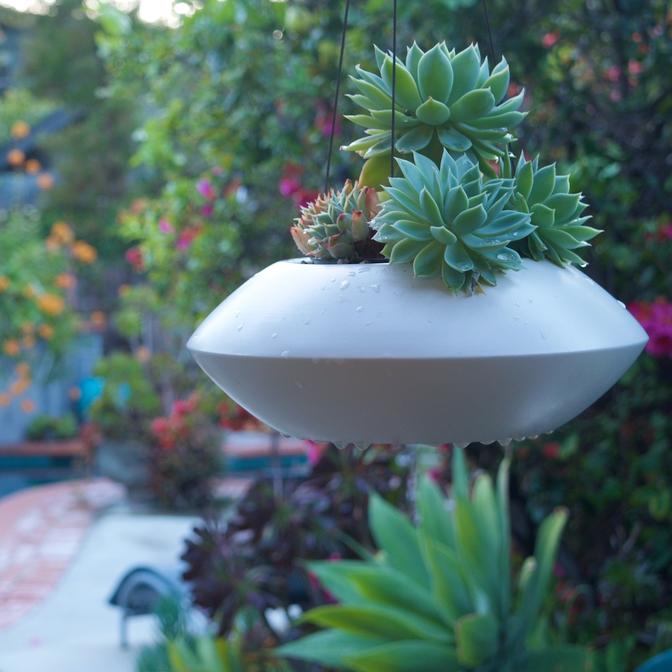 Plants can breathe new life into your home or outdoor spaces. While selecting the best plants is important, so is choosing the right planter. A stylish planter can add to the design of your home, patio, or garden. If you have more eclectic tastes and want pieces that will stand out, Potted has a great selection of unique planters to help you show off your style and personality.
Unique Planters for Outdoors
Most planters can be used both indoors and outdoors, but some designs just look better outside. An example of this is The Circle Pot, our most popular original planter. This is a beautiful, unique planter that deserves to be seen by others, which is why it's often spotted on front porches. This stunning planter is made of glazed ceramic clay and can be hung with its included 18" cord, or you can use the flat bottom for tabletop placement. The size is perfect for most 4" nursery containers.
The Orbit Planter makes a fantastic companion for The Circle Pot. This garden planter features a sleek, futuristic design reminiscent of a flying saucer. You can hang The Orbit in groups, by itself, or place it in our Marilyn Stand. No matter where you place it, this whimsical planter is sure to make a statement.
If you've been searching for unusual containers for plants, our City Planter is just what you need. This Potted design is frequently copied, but nothing beats the original. This wall planter features a hand-finished, sealed patina, meaning each piece is truly one-of-a-kind in its pattern and color.
Unique Planters for Succulents
Succulents are becoming more and more popular, and some planters will work better for this plant than others. The Bauer Canoe is perfect for succulents with its shallow, elongated design. It makes a lovely centerpiece for outdoor dining or patio tables.
The Crystal Clear Urbz Window Mount clears up counter and windowsill space by letting you display succulents and herbs directly on your window. These succulent planter bowls are made with clear, shatter-resistant plastic, giving you a unique look into the soil and roots of your plants.
We also carry whimsical planters in dinosaur shapes that can bring a burst of color and fun to your home. The Dino Apatosaurus Planter perfectly fits succulents and comes in eye-catching colors like chartreuse and turquoise.
Unique Indoor Planters
Houseplants are a fun way to decorate the inside of your home, and we have unique planters that will add to your interior design. To add a pop of color to any room, check out the Chive Wall Nest. These small planters are easy to mount on the wall and come in three bright shades: Emerald, Green Sheen, and Pink. They're the perfect size for mounting one in a small space or adding a cluster of all three colors on a wall.
The large Etta Pot with Saucer might be one of our cutest indoor flower pots. This pot was named after iconic singer Etta James and features a unique winking face design on the front. The included saucer makes it perfect for indoor use and has a beautiful painted vine design.
If you like hanging planters, you'll love the Hanging Woven Planter in Natural/White. This sustainable hanging basket has a modern design made using traditional techniques. It is made in Muhanga, Rwanda and highlights the skills of creative, talented women across Africa. Hang in a light, airy room and appreciate this woven piece of art each time you enter it.
Unique Planters, Decor, and More From Potted
At Potted, we strive to help you create beautiful outdoor spaces with our planters, decor, outdoor furniture and more. We blend our original planters with unique styles from other artisans to bring you a diverse selection, ranging from whimsical to modern. Shop our full selection of unique planters and more online or stop by Potted in Los Angeles today!