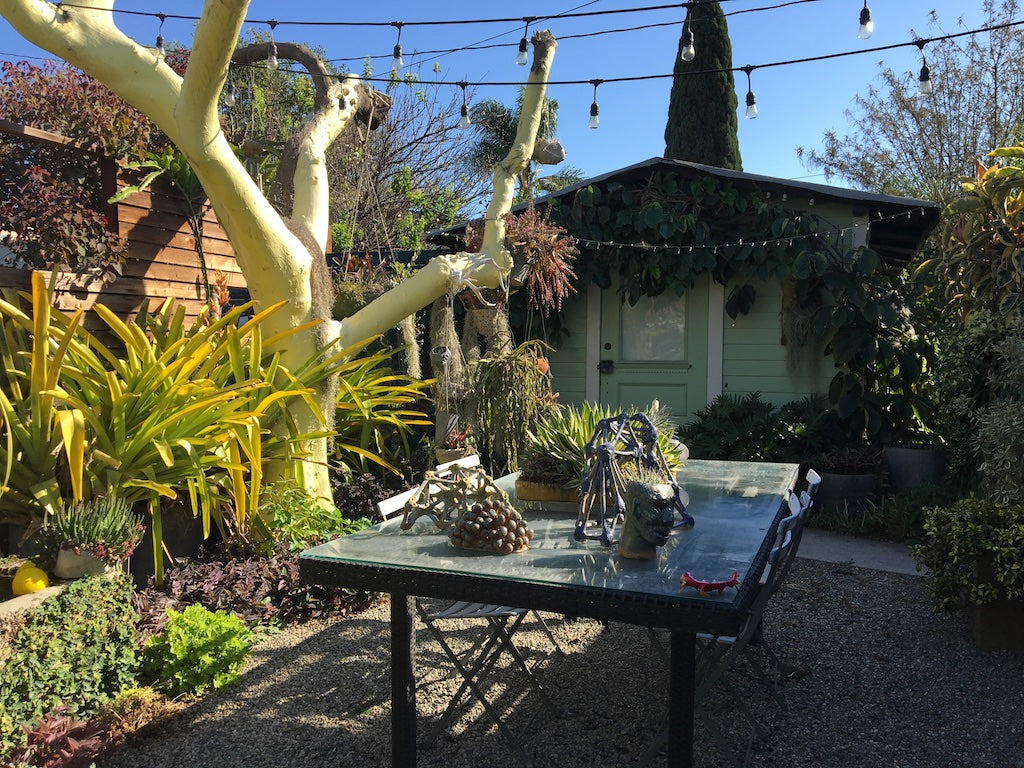 Let us take you for a peak into the eclectic garden of designer Dustin Gimbel of Second Nature Garden Design.
We've had a long relationship with Dustin ever since the day he came into our store asking if we wanted to see a garden he had designed up the street. After one look at the garden, we knew he was someone to watch. About five years ago Dustin bought a home in Long Beach in a less than desirable neighborhood but with his plant wand, he turned it into something magical. Above is what greets you in the front yard.
Dustin has been evolving over the years to expand his love for plants into another love...creating garden art.
These totems of hypertufa balls were one of the first pieces he created.
In the backyard he built this peak-a-boo fence to highlight different areas of the garden. The gold of this variegated Beaucarnea (aka Ponytail Palm) looks so beautiful against it.
And here an absolutely stunning Bromeliad just jumps out at you in this giant pot.
And always among the myriad of plants you will find a wonderful sense of humor. Plus how cool that he combines succulents and bromeliads?
More humor with these "worms" he's created with leftover clay.
This magnificance is all spilling out of one pot. 
And oh how I wish the Dutchman's Pipe on the lavendar garage wall was still blooming so you could see how stunning it was...but it still looks pretty beautiful.
And finally here is the fabulous hexagon wall filled with air plants and bromeliads.
Everywhere in Dustin's garden there is something unique to look at. No wonder we are working with him to release one of his first planter releases...The Point Pot. Stay tuned!