How To Make a Rhipsalis Branch Planter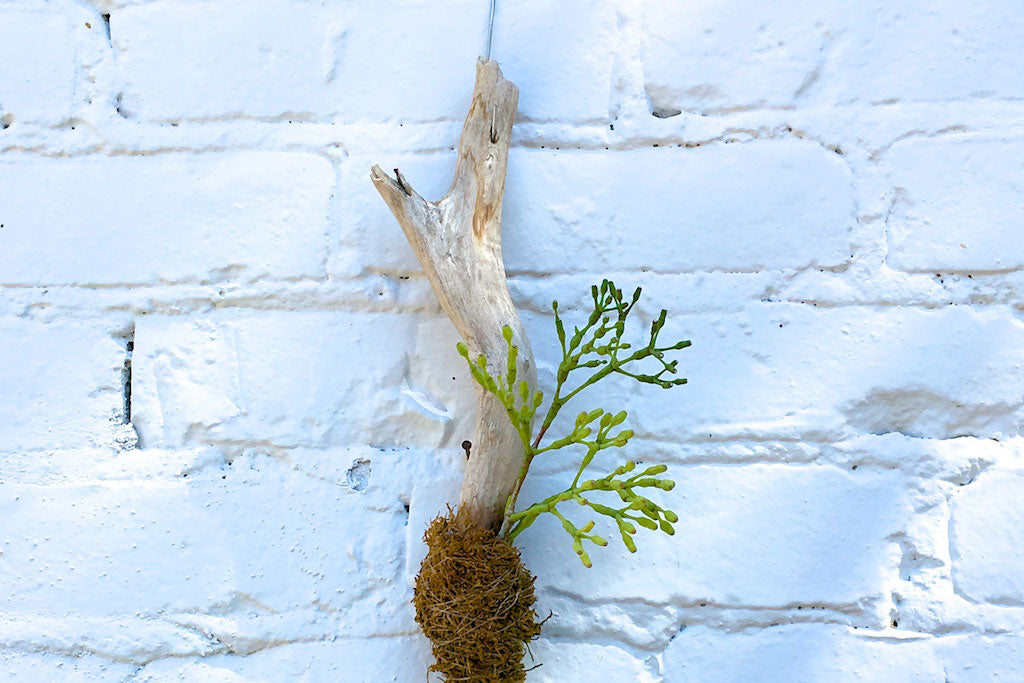 This DIY Branch Planter is a lovely way to show off cuttings and easy to make. We'll show you how to do it in a couple of easy steps.
I first saw the idea several years ago when I bought the orchid shown below at the South Coast Plaza Spring Garden Show from a vendor called Andy's Orchids.
The orchid had been secured to a branch with moss and twine and eventually the root structure of the plant began to wrap around the wood...the same way it does in nature. I was in love! At the same time I also purchased another branch planter that had a Rhipsalis Cactusgrowing from it. I really loved this one as it was so scupltural and weird but was convinced by my enthusiastic assistant that it would look much better in her house. After missing it for a while (ok, I'm a plant dork) I thought..."make one yourself!"  We had done several projects with Kokedama already and it seemed like it was very doable.
Above are all the tools you will need for this project:
Wire Cutters
Scissors (these Joyce Chen Scissors are the best ones you will ever buy)
Aluminum Wire (a good choice because it bends easily and won't rust)
Sheet Moss (to secure the plant to the branch)
Rhipsalis Cutting (rhipsalis are epiphytic and so perfect for this use, but you could try other plants as well)
Branch (make sure it's clean)
Nylon Fishing Wire (to secure the moss around the branch)
Cordless Drill (with a Drill Bit slightly larger than your aluminum wire so it passes through easily)
Step One: Drill a hole clean through on the side of the branch you think should be the top.
Step Two: Pass the wire through and bend it up so it's secure. Use the wire cutters to cut the wire to the length you want (depending on where you want to place it) and then bend another loop on that end to hang from a hook.
Step Three: Wrap your plant with the sheet moss. You can use a bit of damp soil inside as well to help hold in moisture. Not all plants will thrive just living in sheet moss.
 Step Four: Place the moss and plant on the branch and begin wrapping it snuggly to the branch with the nylon wire. Tie it off with several knots.
Voila! The easist little planter you'll ever make. Just don't forget to water it. Like its Kokedama cousin, these will dry out very quickly. I soak mine the same way I do my air plants...for about an hour once a week.
If you make one, we'd love to see it. Post it to Instagram, Facebook or Twitter with the tag #PottedDIY